We are proud to announce we are going to present our IONA System at the Coordinate Metrology Society Conference in Orlando, USA, 25-28 July 2022.
Our flagship product IONA has been developed to tackle the challenges of robot performance and flexibility. The hardware and software have been developed specifically to monitor and improve robot processes by enabling simple in-process measurement of the end-effectors and fixture.
Visit us at stand 218 to discover how IONA can drive your Smart Factory.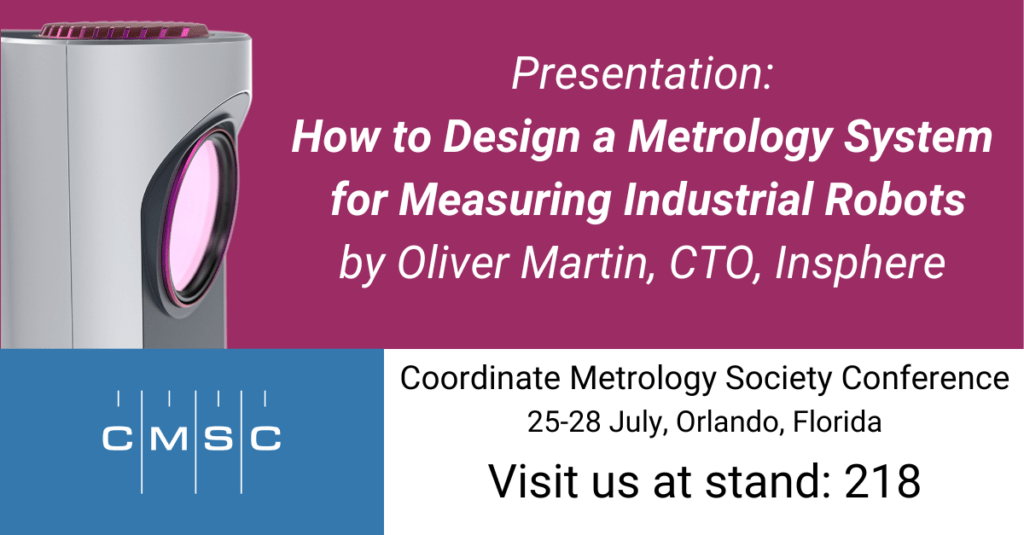 Presentation: How to Design a Metrology System for Measuring Industrial Robots
Presenter: Olliver Martin, CTO, Insphere
Presentation Summary: 
Serial-axis industrial robots are increasingly being used for challenging processes that are at the limit of their capability. Pushing the manufacturing envelope with these traditional serial-axis robots has several limitations that need to be overcome, not least the level of positional accuracy required for high-value manufacturing. External metrology systems can be deployed to improve process performance. This presentation confronts the challenges with deploying traditional portable metrology systems in such applications. The paper details the design considerations required to overcome the shortcomings in existing solutions, leading to the development of a new approach. Subsequently a new metrology system is introduced: IONA, a network of permanent, in-situ sensors providing metrology data as a service to multiple manufacturing stakeholders.