IONA - Accurate Positional Awareness for Robots
Unlocking the true potential of industrial robots
IONA - The scalable network of sensors that provides metrology-grade positional data to automated manufacturing processes
Live positional data from IONA enables robot simulations and programs to be updated either periodically or in real-time. This can be used to correct for variation in part location, cell setup or inherent errors in the automated system.
This data enables an accurate digital twin of the manufacturing system, allowing the user to bring offline programmes online – seamlessly – without the need for manual intervention.
The metrology-grade data generated can be used to improve the accuracy and performance of robots enabling new processes to be automated.
Unlocking the true potential of industrial robots
Automated Robot to Part Alignment
increase in process accuracy
Improves robot performance
confidence through 24/7 monitoring
Continual process monitoring
IONA Nodes work as a permanently deployed network of sensors, simultaneously capturing live data from multiple points of interest – Robots, Fixtures, Datum features etc. By observing motion from multiple vantage points, accuracy is increased and line-of-sight issues are removed.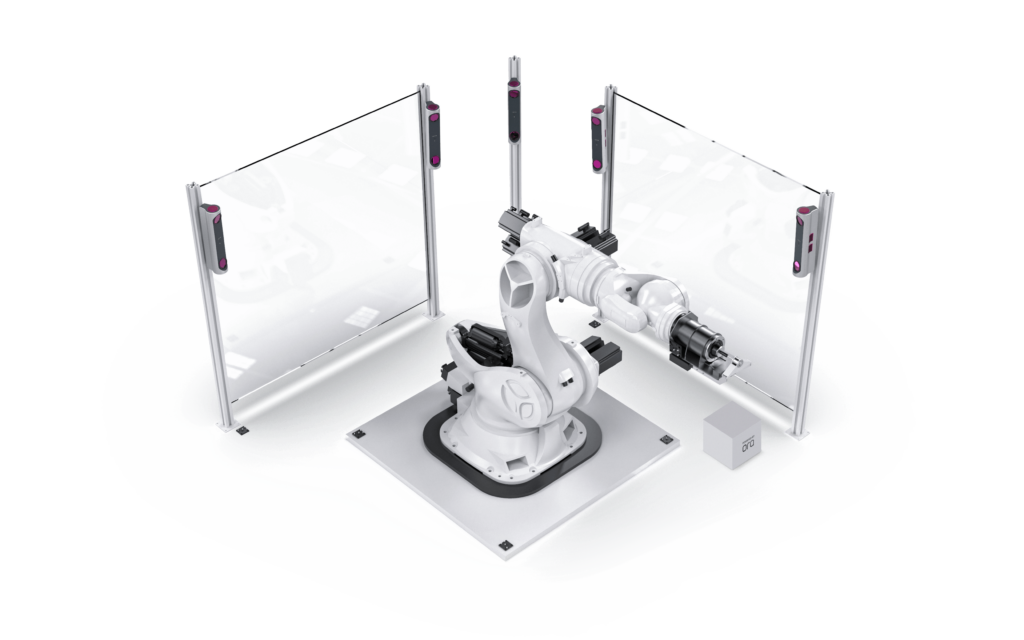 Each node tracks the motion of targets in 3D within its field of view. It is robustly designed and is connected via a single data and power cable. Nodes can be mounted on pre-existing guarding and are able to account for environmental instability.
Discrete Targeting on the robot end-effector to monitor the position and the relationship to the work object.
The controller manages the network of nodes, combining the data each node returns and calculating an accurate 6DOF position(s) using proprietary ORA algorithms. Data output is simplified so no specialist knowledge or bespoke programming is needed to utilise the data.
Each tile is comprised of a pattern of retro-reflective spheres. These tiles are located sparsely around the cell to provide a reference frame. They are also used to track additional points of interest such as: parts, fixtures and tooling. Each one is uniquely coded allowing the software to automatically identify the feature being tracked.
"IONA is a key enabler to support the digitisation of automated manufacturing."
With IONA we can reduce the commissioning time involved in first setting up a cell. We can provide a more consistent product quality and ultimately we can ensure that the physical process matches the designed intent.
Ben Adeline – CEO Insphere
Seamlessly Integrated into the manufacturing workflow

IONA Nodes simultaneously capture live data from multiple points of interest – Robots, Fixtures, Datum features etc
The ORA software platform analyses the data from the sensor network. This can be autonomously fed back in real-time to the robot controller to correct for process variation
ORA integrates seamlessly with the broader smart factory architecture. ORA can communicate directly with the robot controller or PLC via an API as well as being able to send data directly to the MES platform at the factory level. This enables ORA to operate as a 'black-box' providing data autonomously on demand.
The
ORA Software Platform
ORA is our software platform that powers our IONA Network, provides unique data analysis and connects seamlessly with the robot and factory systems.
ORA analyses the physical cell set-up, robot movements and fixture alignment, generating data that can then be compared to the program or simulation. Processes can then be updated, correcting for misalignment, inaccuracies and process variation errors.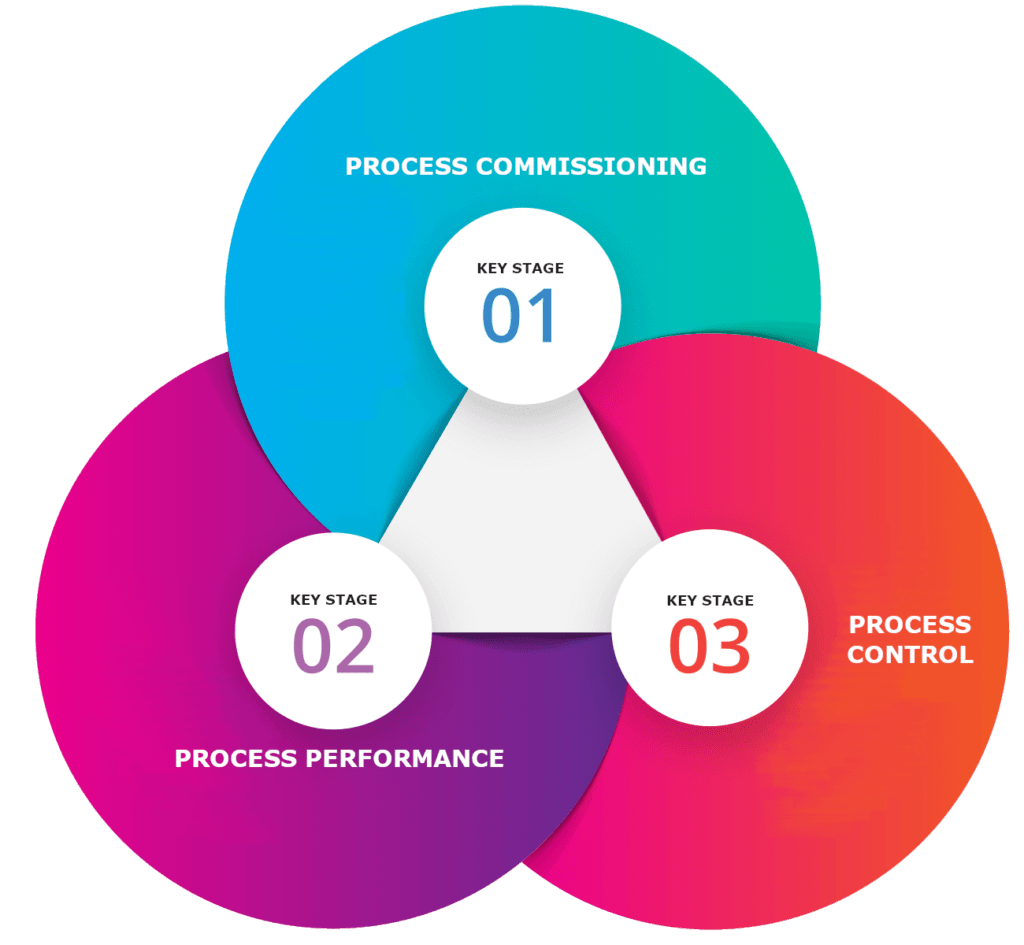 IONA can be used to enhance three key stages of manufacturing
Increase Process Accuracy
In-Process correction of robot errors
24/7 process monitoring and feedback Validate the digital version of your manufacturing system and monitor performance 24/7, see trends and react with agility. Greater confidence can be placed in the digital simulations knowing that the digital model accurately matches the real environment and that any changes can be accurately implemented. Making these changes without manually intervening increases the system uptime and productivity and creates a truly flexible manufacturing system. By continually monitoring the position of the robot end-effector in relation to the fixture or workpiece, IONA allows engineers to gain forward-looking insights to predict when maintenance is required Rapid, Automated Commissioning
Rapidly perform a physical dry run of the program, capturing data using the nodes and then using the ORA software to highlight the differences between the intended program and what happens in reality. The changes to correct the program can then be made at the click of a button. Simple, built-in connectivity and exchange of data with other devices in the ecosystem to create truly autonomous networks capable of carrying out complex tasks in the physical world.
"Exciting technology!"
IONA is a great example of some really exciting new technology that is coming to market that will revolutionise the UK Manufacturing for the future

Andy Silcox, Research Director, AMRC Cymru
"Innovative system for advance manufacturing"
We see IONA having an integral role in the future of advanced manufacturing.

James Allum, Senior Manufacturing Research Engineer, AMRC Cymru
"Achieve process confidence"
As we develop scalable and robust automation solutions in the composites industry, the IONA system shows promise for increasing process confidence and flexibility

Dr Stuart Morris, Engineering Director, Pentaxia
IONA is a great example of some really exciting new technology that is coming to market that will revolutionise the UK Manufacturing for the future
Andy Silcox, Research Director, AMRC Cymru
The IONA solution brings benefit to a wide range of applications from robot based machining through to assembly operations. The common theme is that manufacturers are looking to improve the accuracy, flexibility or autonomous nature of their automated process.
3 Steps to improving Robot Accuracy by measuring, teaching and monitoring process performance
This technical paper tackles a range of assumptions associated with robots: repeatability vs accuracy, the interplay between robot payload and stiffness, as well as flexibility vs in-process adaptability.
Get in touch to discover how IONA can drive your Smart Factory
From a technical demo to a consultancy discussion we can help you identify the best solution for your automated processes.